Where are you on your Agile Transformation journey?
Are you thinking about starting with agile but unsure of where to begin and what to expect? Have you started but are unclear how to maximize the benefits of agile?
Do you want to accelerate your agile transformation? Would you like to advance your own leadership skills?
Have you thought about institutionalizing agile leadership practices and their role in producing fearlessly innovative teams? What about enhancing team motivation and engagement?
The Certified Agile Leadership (CAL) program provides a new way of thinking about Agile, with practical tools designed to develop your ability to lead and influence in the volatile, uncertain and ambiguous environments we live in today. CAL will unleash the potential in yourself, your people and your organization.
Consider Your Organization Broadly
Apply Systems Thinking
Embrace change and excel in volatile, uncertain environments with large amounts of complexity
Welcome and adapt to the future as it unfolds
Lead and Advance Your Agile Transformation
Patterns of Agile Transformations
Seeing next steps to advance yourself and your organization
Agile leaders' behaviors contrasted with traditional leaders' behaviours
Develop The Organization
Lead teams and go beyond teams. Understand the evolution of organizations
Make culture, architecture, and structure enhance your agile adoption.
Understand and articulate the Journey of Lean and Agile we are all on
Apply Lean tools and define metrics to make your organization healthy and dynamic
Engage Your People
Increase your employee's motivation, improve trust and deepen collaboration
Apply servant leadership and transition to host leadership within your organization
Understand The Art of Action – how you can make effective decisions quickly
Foster a Culture of Continuous Improvement
Lead continuous improvement in complex environments, while adapting to an ambiguous, dynamic world
Learn how to create system change experiments in your environment
The CAL program will enable you to be aware of the art and practice of agile leadership, provide you the theory and the tools you need, enabling you to take specific next steps to advance your practice within your organization.
Highlights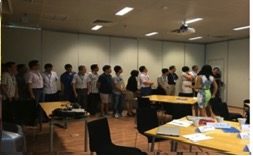 Evelyn utilizes accelerated learning techniques without using canned presentations. Evelyn is a people focused trainer who is focused on maximizing your learning experience and increasing your information retention. Through activities, learning games and exercises backed by case studies, participants will leave with raised awareness of the benefits, mindset, skills, and characteristics of an agile leader. You will gain insights into agile leadership, organization improvements, and take away concrete practices, tips and techniques to apply to your organization. This program is part of the Certified Agile Leader™ certification offered by the Scrum Alliance
Intended Participants
Senior Executives, middle management and leaders with the desire to introduce or enhance the practice of agile in their organization
Leaders who support, lead, or interact with agile teams such as Scrum Masters and Agile Coaches
What participants say
"Great mix of games, exercises, videos and case studies. The trainer is clearly knowledgeable and passionate."
– Head of Network Integration Center
"This is a very different session compared with other training sessions I attended. I came out with great ideas to try during the inspiring session and on the flight back home!"
– Head of R&D, Mobile Client Services
"Very satisfied with the richness and applicability of the contents. Three of us from the same management team have our next CAS system experiments defined."
– Manager, Service Deliveries
"Wish I attended earlier! Positive energy and practical tools that will help me."
– Scrum Master, Modem Development
"Highest ROI ever of all training sessions taken. I went from confusion to clarity."
– Senior Project Manager, Mobile Services
"Very satisfied with the balance of theory and group work, and the passion and knowledge of the trainer."
– Director Project Office, Product Services
"Always impressed with Evelyn's knowledge, energy, and experience, and how she always makes workshops unforgettable."
– Coach and Trainer
Your CAL Instructor
Evelyn Tian

Certified Enterprise Coach (CEC)
Certified Agile Leadership (CAL) Educator
Certified Scrum Trainer (CST)
Certified Master Coach, Performance and Executive Coach
Certified Lean Coach
Evelyn is an experienced coach and trainer with over twenty years of product development experience in product management, project management, system design, software design, system integration and customer support.
Evelyn was a change agent driving agile transformation at Ericsson, and headed the Global Transformation Support Centre, supporting Ericsson with Lean and Agile transformation globally. Evelyn's focus is on organization transformational strategy, continuous improvement and enhancing the art and science of crafting software. Through coaching teams and organizations. Evelyn has built a lengthy track record and gathered deep insights in coaching organization transformation, agile leadership, and teams to reach their potential. She has designed and delivered agile leadership workshops to hundreds of leaders globally.
A Member of the IEEE Software Advisory Board with a focus on agile and DevOps, Evelyn is an international speaker. A selection of Evelyn's recent speaking engagements includes:
Keynote Presenter – 2016 Agile Tour Shanghai

Learn to Surf: Experience from Agile Transformations

Track Chair – Agile 2016 – Future of Agile Software Development
Keynote Presenter – XP 2016, the 4th International Agile

Scaling Workshop Scaling in Practice: Some Myths and Facts

Guest Speaker – XP 2016 – Amplify Agile
Keynote Presentation – 2015 Agile Tour Beijing – Simplify Complexity
Chair 2015 IEEE Software Experts Summit (SES)
Presenter – 2015 Global Scrum Gathering
Keynote Presentation – 2015 Agile Tour Shanghai
Guest Presentation – 2014 Agile Alliance Conference

Transformational Life of A True Agile Leader
Agile Journey of A Large Scale Legacy Telecom System